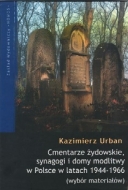 Publication: Big New Book on fate of Polish Jewish Sites (1944-1966)
The Foundation for the Preservation of Jewish Heritage in Poland
has announced the publication of new resource on Jewish monuments. The book (which I have not seen), apparently contains massive amounts of important documentary information about the post-Holocaust fate of Jewish sites.
It is with joy that we inform that thanks to the support of the Foundation for the Preservation of Jewish Heritage in Poland a book by Professor Kazimierz Urban was published by Nomos Publishing House in Cracow under the title ""Cmentarze żydowskie, synagogi i domy modlitwy w Polsce w latach 1944-1966 (Jewish Cemeteries, Synagogues and Houses of Prayer in Poland, 1944-1966)".


The book, composed of original Polish documents concerning mostly the fate of the property of the prewar Jewish communities, is a large, 800 pages wide publication. It is a perfect source of information for the scientific research, and a good lecture for all those interested in the history of Polish Jews after the World War II.


To order the book please contact the Foundation at fodz@fodz.pl.